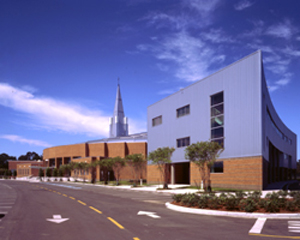 View from Entrance Drive
Photo by Robert Brantley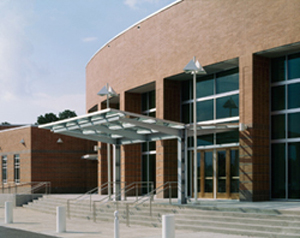 Main Entrance
Photo by Robert Brantley

Baptistry
Photo by Robert Brantley


Lobby
Photo by Robert Brantley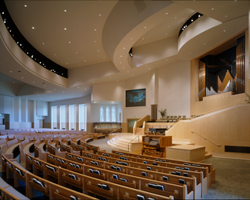 Sanctuary Entry
Photo by Robert Brantley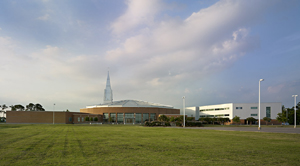 Front Facade
Photo by Richard Sexton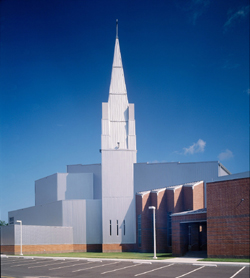 Steeple
Photo by Robert Brantley


Education Building Detail
Photo by Richard Sexton
"I am enormously pleased with the drawings, and commend you, Paul, Eean III, Michael and your entire staff. You provided us with an outstanding design, and you and your staff have developed and delivered it with the highest degree of professionalism. You have been courteous and cooperative, sensitive and understanding, and perceptive and discreet. You have met and exceeded my expectations on this design, and it has been a pleasure to work with each of you throughout this process."

Jack S. Hunter, Chairman
Building Design Team
First Baptist Church of New Orleans
Project Profile:
The First Baptist Church of New Orleans has a proud 154-year history of ministering in the City of New Orleans. Faced with the reality that their current facilities cannot meet the future goals of the Church – "to minister to a regional congregation" – the Church has embarked on a venture to relocate at a crossroads of the City. The complex of buildings will be dramatically visible from Interstate 10 and Interstate 610, marked by the 160-foot steeple. The new Church will accommodate the anticipated future growth of the congregation, and provide state-of-the-art facilities for hosting regional conferences and other venues.
This contemporary design of the 121,634 square foot building complex includes a 1350 seat Sanctuary, Fellowship Hall, Music Suite with choir practice hall, and a three-story Education/Administration building linked to the Sanctuary building. The site planning and building design is configured to provide maximum opportunity to bring natural light into all occupied spaces. The configuration of the design responds to the curved triangular site.

The design provides for numerous opportunities for gathering and fellowship in the corridors and lobby spaces thought both of the buildings.

Open green space is created by the placement of the buildings. The buildings are ringed with parking for 400 cars, allowing easy access to the various individual areas. Additional parking for 236 cars is provided in a smaller lot near the entrance to the Sanctuary building.

Phase 1 construction includes the Sanctuary, Fellowship Hall, Music Suite, and 50% of the Education / Administration building. Future phases will complete the Education / Administration building, and add a drop off canopy at the Sanctuary lobby entrance.
Phase 2 added a Commercial Kitchen to the Fellowship Hall.

Owner: First Baptist Church New Orleans
Firm Responsibilities:
Programming and Full A/E Services
Phase I Cost: $15,200,000
Phase II Cost: $1,100,000
Phase I Completion: May 2004
Phase II Completion: June 2008