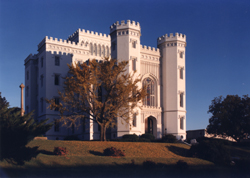 Exterior from Levee
Photo by David King Gleason

Restored Rotunda
Photo by Richard Sexton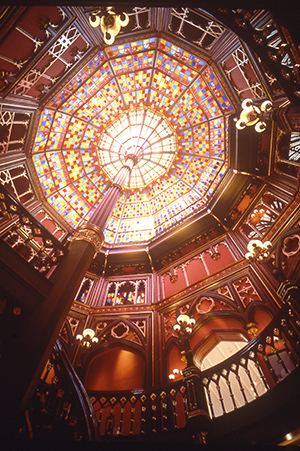 Restored Rotunda
Photo by Timothy Hursley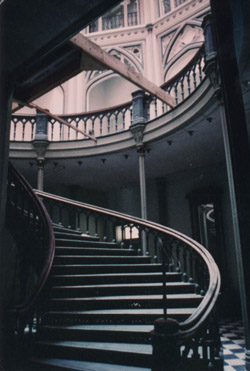 Rotunda Before Restoration
Photo by Eean McNaughton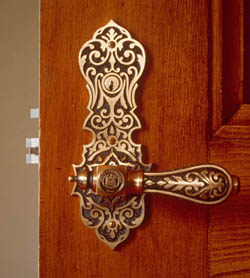 Replicated Door Hardware
Photo by Richard Sexton


Senate Chamber Before Restoration
Photo by Eean McNaughton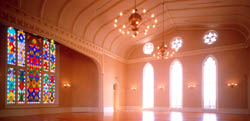 Restored Senate Chamber
Photo by Richard Sexton
Institute Honor Award for Architecture - American Institute of Architects, 1999
Honor Award - AIA Gulf States Region, 1995
Honor Award of Excellence, AIA Louisiana, 1994
Honor Award - New Orleans Chapter AIA, 1994
Honor Award - National Trust for Historic Preservation, 1994
'Special Award' - Louisiana Preservation Alliance, 1994
"Outstanding research of the original historic fabric and exquisite attention to detail have transformed this former State Capitol into a successful interactive experience for visitors. The sophisticated, unobtrusive additions of electrical and communications systems are a perfect complement to meticulously restored original spaces."
Institute Honor Awards Jury Comments, 1999
Old Louisiana State Capitol:
The Center for Political and Governmental History
Baton Rouge, Louisiana
Project Profile:
The rich history of this Old State Capitol building is interwoven into its restoration. Unlike recent restorations of historic state capitols, this project involved adapting the building for museum functions and reuse as an interpretive center on government and politics.
The Capitol was designed by architect James Dakin and completed in 1852. In 1862, during the Civil War, the building was gutted by fire. In 1880-82, architect William Freret, reconstructed the building adding a fourth floor and raised lantern to the central portion of the building. The dominant and unique architectural feature of the building is the Rotunda with its colored glass dome and use of cast iron both decoratively and structurally.
Planning and restoration processes included state-of-the-art methodology of research, documentation and programming. Restoration philosophy established the concept to focus exterior restoration on the original 1852 design, and interior restoration on the 1882 reconstruction. The colored glass in the fan vault dome was completely removed, supporting structure reinforced, and the original design recreated. Recreated color design and oak graining in the Rotunda and other major spaces is authentic to 1882. The assortment of existing flooring materials was replaced with antique heart pine matching 1882 specifications.
The impact of code and life safety requirements was minimized by equivalency resolution. For example, the glass smoke barrier permits light into the corridor and saved the original stair. The building is fully sprinkled and has extensive electronic surveillance systems for fire and theft. Mechanical systems provide minimal impact and are designed to deliver climate control to museum standards. Vertical circulation for egress and service is located adjacent to new equipment rooms and chases, providing the least impact on historic fabric.
Owner: The State of Louisiana
Firm Responsibilities:
Prime A/E Services; Historic Structure Report; Master plan and Facilities Program; Site Analysis and planning; Complete preservation and A/E services through Construction Administration
Phase I: $2,185,879 Completed: 1986
Phase 2: $7,053,575 Completed: 1994
Publication:
Capitol Wanderings: The Art and Politics of Louisiana's Capitols. Philip Gould and Lawrence N. Powell, Louisiana Life, Summer 1995, pp.40-46.
Gould, Philip and Lawrence N. Powell. Louisiana's Capitols: The Power and the Beauty, Gallerie Press, Lafayette, LA, 1995.
The American Directory of Architects, South/Southeast Edition, 1991, Pinkhaus Pub., Miami, FL., pp. 40-41.
More on the Old State Capitol: Architect Eean McNaughton Provides an In-depth Account of the Recently Completed 12-Year Restoration Project. Eean McNaughton, Preservation in Print, Vol.21, No.6, August 1994, pp. 16-19.
Spectacular Architectural Gem Polished to Perfection. Leah Wood, Preservation in Print, Vol 21, No.5, June 1994, pp. 13-15.
Capitol Castle. Kim Keister, Historic Preservation, May/June 1994, pp. 36-45, 93-95, 98.