Site Plan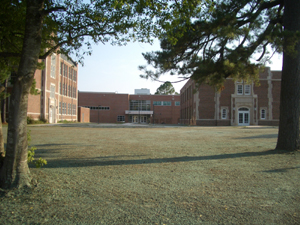 View from University Parkway - Renovated Annex on Right
Center for Performance and Technology in background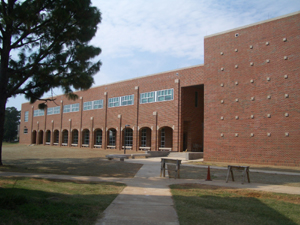 South Elevation - Black Box Theater in foreground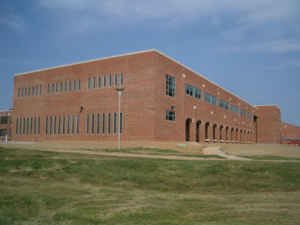 West Elevation - Center for Performance and Technology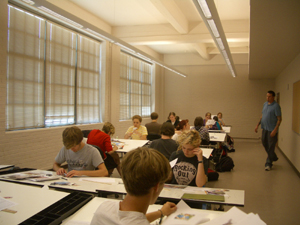 2D Art Classroom - Music & Fine Arts Building (Annex)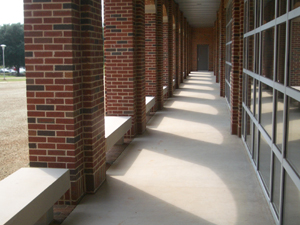 Covered Arcade - Center for Performance & Technology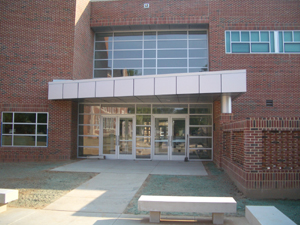 North Entrance - Center for Performance & Technology
Project Profile:
The Long Range Campus Master Plan and Architectural Space Program provided a solid document for building and site design.
The New Center for Technology and Performance / Cafeteria is a 40,000 sq. ft. two story building. The first floor spaces include a music performance / lecture hall, a Black Box Theater, an Art Gallery, and a large cafeteria with seating for the entire student body. The Art Gallery will exhibit student and faculty work as well as art by the Natchitoches art community. The Black Box Theater provides a flexible space for creative and innovative theater. The Lecture / Recital Hall will provide instructional space and allow for intimate musical recitals. The large lobby is programmed for gatherings and receptions as well as a generous space for students to "hang out".
The second floor of the new building will house The Louisiana Virtual High School along with technology classrooms, data center, student commons, and faculty offices.
The interior of the Annex Building will be gutted and rebuilt to serve the needs of the Music and Fine Arts program.
The present cafeteria space and auditorium in the Academic / Administration Building is to be renovated for drama support functions.
The arrangement of the new and existing buildings creates a quiet green quadrangle for students and faculty. The design creates provides the opportunity for classes and groups to meet outside on pleasant spring and fall days.
Owner:
State of Louisiana
User:
Louisiana School for Math, Science, and the Arts
Firm Responsibilities:
Programming and Full A/E Services
Phase: Construction
Cost:$14,000,000
Completion: September 2009