Exterior at Night
Photo by Timothy Hursley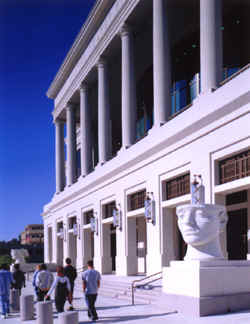 Exterior
Photo by Timothy Hursley


Second Floor Elevator Lobby
Photo by Timothy Hursley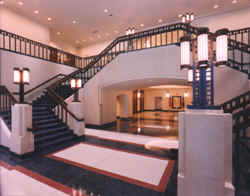 Entrance Stair
Photo by Timothy Hursley


Rotunda
Photo by Timothy Hursley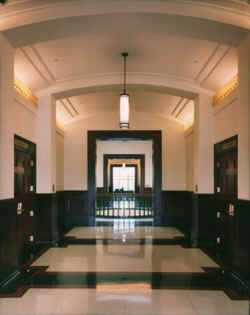 Third Floor Corridor
Photo by Timothy Hursley


Courtroom
Photo by Timothy Hursley
Honor Award, AIA Louisiana , 2000
Publication:
Holding Forth in Town Center: Two New Federal Courthouses in Louisiana, Architecture South, Vol. 3, No.2, (by Douglas Ashe, AIA)
"The architects for the city's new federal building have responded by recalling traditions of the past, but in doing so have created a downtown landmark which will contribute to the daily life and character of the downtown community…In the development of this project the architects took the approach of creating a strong sense of identity through regionally responsive design….A covered arcade at the entrance provides protection from the sun and the rain. This arcade or "courthouse porch" is both climatically apt as well as a reference to the colonnaded porches of Southern architecture."
Doug Ashe, AIA
Architecture South Magazine
United States Courthouse
Lafayette, LA
The design of this new United States Courthouse creates a dominant and powerful landmark in downtown Lafayette. The judges had a strong influence on the design image. They wanted a reference to classical architecture expressive of the formality, stability, order and dignity of the Federal Judicial System. The building form is symmetrical. The monumental facade faces Lafayette Street with an axial relationship to the proposed park. The juxtaposition of the building and the park creates a "civic open space - the courthouse square". Moving from the entrance plaza and up the steps one arrives on the "courthouse porch" under a covered loggia providing protection from the hot south Louisiana sun and rain. This design concept is a regional response to climatic conditions. The building vestibule is entered from the porch through a glass entrance, a full two stories high.
Massing of the building elements is expressive of the functional relationships of the spaces within. Paired courtrooms, located across from each other along a central hall on the third and fourth floors, create an east/west axis through the center of the building. The arrangement of four courtrooms on each floor generates the building plan. The colonnade across the front of the building at the third and fourth floors defines the judicial floors on the exterior of the building. These floors sit on a two-story base creating a piano nobile which support, metaphorically and physically the court functions above. Behind the colonnade is a broad expanse of glass providing natural light into the public waiting spaces allowing views out into the park. Natural light is also brought into the center of the building by means of an open rotunda connecting the third, fourth and fifth floors with a large clerestory lantern on the roof. The fourth floor court rooms all have skylights with sun control which focuses natural light on the wall.
Owner: General Services Administration
Lead Designer: E. Eean McNaughton, FAIA
Architect: Lafayette Design Group
E. Eean McNaughton Architects, New Orleans
Eskew Filson Architects, New Orleans
Guidry Beazly Architects, Lafayette
Firm responsibility:
Joint Venture Partner and Lead Designer; Schematic Design and Design Development Phases, Courtroom Planning; Contract Documents for public spaces and courtrooms
Cost: $28,028,937
Completion:1999