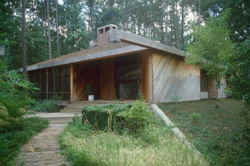 Photo by Alan Karchmer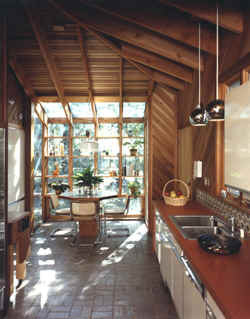 Photo by Alan Karchmer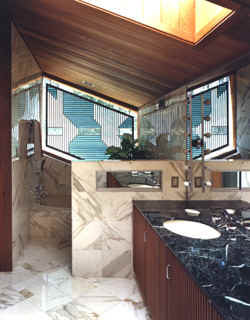 Photo by Alan Karchmer
Awards:
Honor Award of Excellence, Louisiana Architects Association, 1986.
Project Profile:
The two acre site is densely wooded with yellow pine, hardwoods, crabapple and dogwood. Grades vary approximately 5 feet from the north property line to the south, sloping gently. An eight foot high cypress fence surrounds the site.
The owner, a bachelor, requested an `A' frame structure with lofty ceilings, the hearth as the dominant element, and views from the residence providing celebration of the natural pine forest setting. The residence was to have three bedrooms, two baths, a study, and large living and dining spaces for entertaining. The architect was to design the house using as much natural wood possible and provide a woodworking shop for the owner to enjoy his hobby.
The design accomplished the owner's desire for a central hearth providing fireplaces in the living room, dining room and master bedroom, and lofty ceilings in the living room. The exterior form reflects the nature of the spaces enclosed - lower ceiling in the bedrooms and other private spaces. Western Red Cedar is used both inside and out.
Large areas of glass face north, providing minimal solar gain, with soft natural light in the living, dining and master bedroom. The breakfast nook in the kitchen faces east to capture the early morning sun filtered through the pines. Stained glass windows in pivot frames separate the living room and master bedroom. Beveled clear and colored glass provides privacy in the master bath.
Cross ventilation is accomplished through open windows and doors, and a fan to move air through the house. Removal of rain water is emphasized by exaggerating the gutters and downspouts.
Cost: $350,000
Completed: 1985