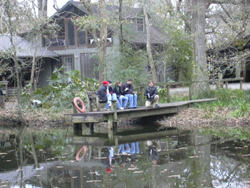 View Across Pond at Artist's Studio and Gallery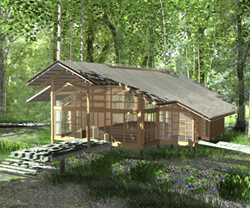 Proposed Pavilion


Victoria Yee
Pavilion Concept

Julie Ford
Artist's Cabin Concept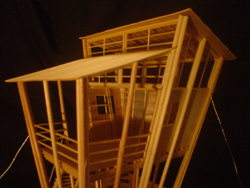 Jessica Diaz
Artist's Cabin Concept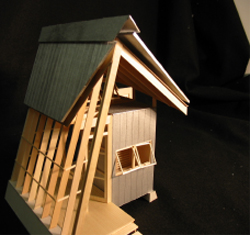 Ben Goodman
Artist's Cabin Concept
Mission:
"To protect and preserve our Mississippi River bottomland hardwood forest and to provide a tranquil haven where artists can reconnect with Universal Creative Energy and work uninterrupted within this natural sanctuary"
Project Profile:
This unique place provides an intersection where the creative arts and the natural environment join together in harmony. The 7.66-acre site of bottomland hardwood forest is located on the Mississippi River in Lower Coast Algiers within the New Orleans city limits. A Studio in the Woods is now the home and studio of Joe and Lucianne Carmichael. At present the buildings include the Carmichael residence, studio, a small gallery and a pond. Artists are invited to live and work on site for a designated time, one to two months, and at the end of the residency present a body of work to the invited public.
In the near future, the Board of Directors envisions the addition of a pavilion and up to three living spaces for resident artists. The site planning these structures was the focus of Professor Eean McNaughton's studio in the Tulane School of Architecture during the 2003 spring semester. Illustrations shown are the products of his students. The designs incorporate the principles of ecological architectural design and site planning.
A Studio in the Woods has successfully obtained a Project Assistance Grant - Design Category from The Louisiana Division of the Arts to plan and design the Pavilion. Landscape Architect Edward Blake, ASLA; Eean McNaughton, FAIA, Daniel Winkert, Architect, John Harper, Landscape Architect, and artist MaPo Kinnard-Payton will collaborate on the site planning and design. Eean McNaughton's site planning students during the fall semester will assist in a methodical site analysis to locate the Pavilion.