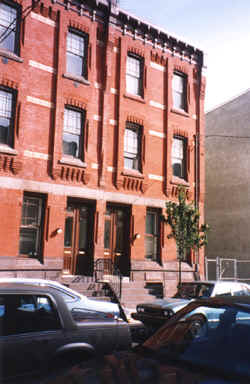 Town House Facade
Photo by Eean McNaughton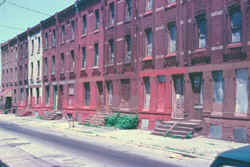 Streetscape Before Redevelopment
Photo by Eean McNaughton III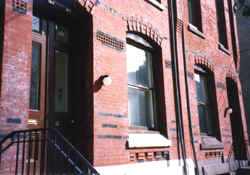 New Unit Entrance / Stair
Photo by Eean McNaughton
Project Profile:
The challenge was to rehabilitate 31 abandoned and severely deteriorated row houses in North Philadelphia for low income apartments. Working with the Redevelopment Authority of Philadelphia, the Philadelphia Housing Authority, The Developer National Temple / Landmark and the neighborhood residents the project was accomplished on time and within budget. Equally important is the functional planning of 81 apartment units and the safe, bright, cheerful living environment created from the shell of these wonderful late 19th century masonry buildings.
McNaughton Architects employed people from the neighborhood to assist our firm during the survey and documentation of existing conditions. This was extremely successful. It was not just employment, it was a learning experience for our neighborhood resident crew. They were exposed to architecture and some indicated an interest in pursuing and education in the profession.
After the units were in use for a few years, Eean McNaughton visited with one of the tenants. She proudly toured us through her apartment and expressed her pleasure with the design.
The 16th Street project along with a separate project of similar size by Campbel Thomas Architects was the genesis for the revitalization of this section of North Philadelphia and the Temple University neighborhood. The area is being transformed and rehabilitated. New housing is being built and existing building are being renovated for housing and commercial services. This gives us, as architects, great satisfaction. We are a part of the team responsible for this success, and are pleased to have had the opportunity to improve the physical environment for the neighborhood.
Firm Responsibilities:
Existing Conditions Survey and Documentation, Design and Contract Documents. We worked with the Philadelphia Firm of Campbel Thomas Architects during all phases of the project and especially during the Bidding and Construction Phase.
Completed: 1991
Cost: $8,000,000